Mission
Our mission is to provide quality dental care, including preventive care, to patients throughout the Greater Nashua area to optimize their oral health, improve their appearance and self-confidence, and keep them smiling for their lifetime. Take a look at our Services Page to see more of the services that we offer!
Values
Patient-Centered Care. A standard of excellence in personalized dental care enables us to provide the quality dental services our patients deserve. We encourage patients to ask questions and take part in their treatment decisions. We want each patient to understand why they need the recommended treatment and the benefits of that treatment.
Uncompromising Quality. Our team is thoroughly trained in all the latest dental treatments and procedures, and we use state-of-the-art equipment and innovative technology to ensure that you and your family receive the best dental care available.
Exceptional Safety Standards. Infection control in our office is exceedingly important to us. To protect our patients and staff, we strictly maintain sterilization and cross contamination processes using standards recommended by the American Dental Association (ADA), the Occupational Safety and Health Administration (OSHA), and the Centers for Disease Control and Prevention (CDC).
Meet the Doctor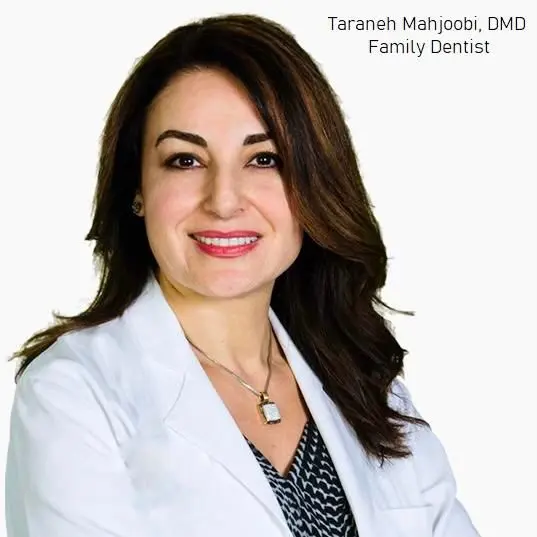 Dr. Taraneh Mahjoobi
Dr. Taraneh Mahjoobi has over 20 years of experience in general and cosmetic dentistry. She earned her Bachelor of Science degree from the University of Massachusetts in Boston and her Doctor of Dental Medicine degree from Boston University. She is a member of the American Dental Association and the Greater Nashua Dental Society. Dr. Mahjoobi skillfully combines art and science to improve the health, appearance, and self-confidence of her patients. She is dedicated to restoring and enhancing your smile because she knows that healthy, functional teeth contribute to improved quality of life. Dr. Mahjoobi lives in Nashua with her husband and daughter. When she is away from the office, she enjoys traveling, skiing in the winter, and spending time with friends and family.
Meet the Team
Cindy - Office Manager
Cindy, our knowledgeable and friendly Office Manager, joined the practice in 2010. Cindy began her dental career over 30 years ago as a Certified Dental Assistant. She enjoys getting to know the patients, helping them understand their insurance, and coordinating the treatments they need to enjoy healthy smiles. Cindy spends her free time reading, gardening, traveling, and having fun with her grandchildren.
Cheryl- RDH
Cheryl has over 30 years of experience as a Registered Dental Hygienist and has been with Dr. Mahjoobi for most of that time. Cheryl is quick to make patients feel at ease by building confidence, trust, and friendship with each patient. Her warm personality and understanding nature make it easy for patients to feel comfortable in her care. When Cheryl is not working, she loves traveling, reading, and spending time with friends and family.
Audrey- RDH
Audrey has been working with Dr. Mahjoobi since she became a hygienist in 2002. She understands that most people do not love going to the dentist and she strives to provide a positive dental experience for each patient. She enjoys getting to know the patients and working with them to improve their oral health. Audrey loves baking, reading, and camping with her family in Maine. She also adores her little Dog, Dexter.
Heather- Dental Assistant
Heather has been assisting Dr. Mahjoobi since 2011. She is fun, friendly, and always smiling. She cares about the patients and wants them to feel comfortable and relaxed. Heather has an enthusiastic sense of humor, and her infectious laughter can often be heard throughout the office. Outside of work, Heather likes traveling, spending time with her family, and working on automotive and home improvement projects with her husband, Mike.
Mia- Dental Assistant
Mia is the newest member of our team. She worked for 8 years as a dental assistant in pedodontics and five years in general dentistry before joining us in 2021. Mia is outgoing and welcoming. Patients love her calm, caring manner. Mia is a compassionate animal lover and spends her free time volunteering at an animal shelter. She also volunteers at a food pantry. She loves thrift stores, reading, history, long road trips, beer, friends and going to restaurants.